Bio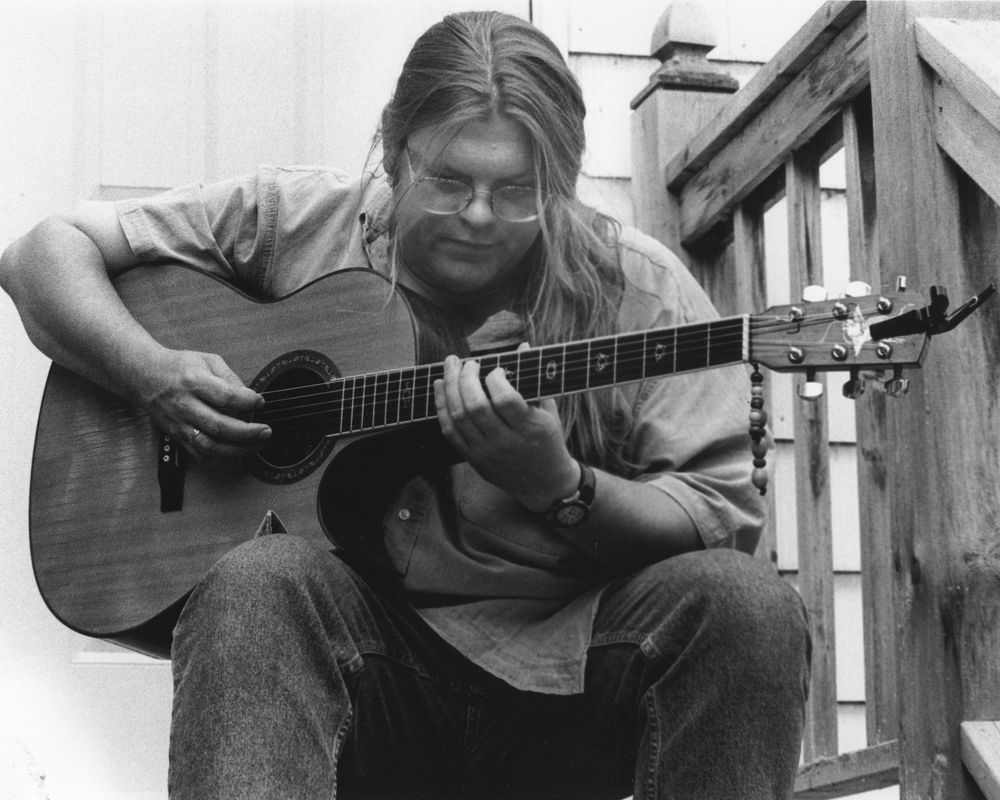 A life in music
Sam Baardman is a singer-songwriter and visual artist living in Winnipeg, Manitoba.  His music reflects a searching, inquisitive spirit, expressing compelling truths about our deepest questions and our most difficult challenges.  Coaxing surprising images out of common situations, Sam's songs resonate broadly with fans who appreciate his lyrical depth and superb, singable melodies.  It's no surprise that the Winnipeg Free Press described him as "one of the city's strongest and most literate songwriters."
Sam's songs travel across a broad range of human experience, from small, intimate moments—a phone call between friends—to global conflicts—environmental catastrophe or cultural equity—infusing every situation with poetic urgency.  Backed by understated yet intricate guitar work, he offers up songs that speak to the heart.
One theme in Sam's music has been environmentalism and the need to restore ecological balance in the world.  He has penned songs about climate change, the destruction of the Amazon rainforest, the degradation of Lake Winnipeg, and other pressing issues, without being didactic or preachy.  "I don't write these songs to persuade or argue," says Sam, "but to try to express something about our collective dilemma, to give voice to our sadness, outrage, or bewilderment at the situation we find ourselves in."
Environmentalism has been a focus of Sam's visual art as well.  As a fine art photographer, he is a co-founder of the River on the Run Artist Collective, a group of visual artists and poets working together since 2006 to address the global water crisis.  Working in collaboration with biologists and climate scientists, their art investigates the increasingly fragile relationship between humans and their habitats.  
A belief in the power of music and art to move people and propel change has been at the core of Sam's work for over 30 years as an artist.  A veteran of the Canadian folk music scene, Sam was a familiar figure in folk venues and festivals across Canada since the release of two well-received albums in the 1990s.  The first was Kicking the Stone Home, whose songs are like old friends from the first listen. From the beautiful "Hearts & Hands," chronicling a generation reeling at the end of the twentieth century, to the intimacy of "Every Little Piece," Sam proved himself to be a mature songwriter in the folk tradition.  Sam's second album, The Rookery, was hailed by music critic John Kendle as "a timeless Canadian Folk Record" and it was nominated for Outstanding Roots Recording at the 2000 Prairie Music Awards.
In the middle of a busy life of touring folk festivals, folk clubs and concert halls, Sam put his artistic life briefly on hold to take over as Executive Director of Manitoba Music, and in 2002 he was given the Prairie Music Award for Industry Builder of the Year.  In the ensuing years, Sam served in national leadership roles across the Canadian music industry and provincial cultural community.  During this time he continued performing and mounting exhibitions in both Canada and the US.
Then in 2020, a personal disaster struck.  Sam suffered a stroke that left him barely able to walk, unable to work and, worst of all, completely unable to play the guitar or make music.  He was devastated, but determined to find his way back.  Over the following year, he slowly improved, doggedly picking up his guitar every day to eke out what music he could.  And along the way, something remarkable happened.  As he worked to overcome the neurological damage left by the stroke, new lyrics and melodies began to emerge.  New songs started to flow, one after the other.  Music and songwriting began to drive his recovery and healing.  It turns out that music can, indeed, save your life.  Sam's recuperation eventually led him to devote himself full-time, once again, to music and art.
The new songs in Sam's repertoire feature penetrating observations about coming to terms with our collective past, or facing an uncertain and harrowing ecological future.  There are tender songs of love and longing, and revelatory songs about the passage of time.  These are passionate, incandescent songs, with lyrical subtlety and piercing insights that showcase a seasoned songwriter at the top of his form.  Sam spent the better part of 2022 distilling all of this into a new album of original material called "Marsh Radio" which he released in September, 2022 to critical acclaim.
After the release of Marsh Radio, Sam responded with his fourth full-length recording, Athabasca. 
The Athabasca project began in 2022 when Sam was exhibiting and performing at a conference he helped put on called "Art, Activism and Advocacy" in Winnipeg.  There, he spoke to a scientist in attendance from Global Water Futures (GWF), a program that supports research scientists who are studying the effects of climate change on water systems.  GWF had collaborated with environmental artists in the past, and they arranged for Sam to spend two weeks last fall at the Coldwater Laboratory in the Rockies as well as northern Saskatchewan to speak with scientists about their climate-related work.  Sam traveled with GWF scientists to their observatories atop mountains, deep inside alpine forests, up on a glacier, and onto the northern prairie. 
"Spending time with these researchers was a life-changing experience.  It really opened my eyes and helped me to understand the science much more deeply, but getting to know the scientists was just as important.  I discovered a group of extraordinarily dedicated people who are confronting the global environmental crisis head on," says Sam.  "They are in a race against time, in a battle against apathy and ignorance, in a fight for resources, and in a constant struggle to be heard by global leaders, policy-makers, legislators, regulators, and the general public.  We owe it to ourselves and to them to pay attention to what they are discovering, and more importantly, to act on it together."
The result of this science-art collaboration is Athabasca, a collection of environmental songs released April 22nd, 2023, Earth Day, at the West End Cultural Centre in Winnipeg.  Environmentalism has been a theme in Sam's music from his earliest days as a songwriter and this new album is a culmination of decades of ecological art-making.  The songs are thoughtful, poetic, often biting commentary on the current crisis.  The music occupies a space that is neither didactic and preachy, nor naively optimistic.  There are celebratory songs about the beauty of nature, but also songs that speak to our bewilderment, hurt, and anger at the dilemma we find ourselves in. 
"I know music can activate a response that is really positive," says Sam.  "It can help express something that someone may have found to be inexpressible about the current catastrophe.  Like all art, it can awaken new insights and perhaps help people feel new resolve."  The album features everything from gorgeous acoustic songs to hard grinding folk rock, all of which showcase Sam's stellar lyrical craft and solid, memorable music.